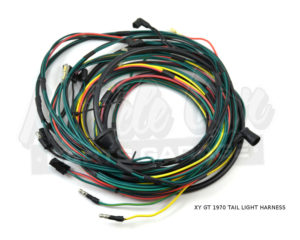 First off and once again we would like to thank you all for your interest in our wiring loom project and thank you for your patience whilst we try and workout the logistics of pricing such a product. We have now finally confirmed pricing for the looms both individually and as a complete vehicle kit, PLUS we have a once only pre-order offer on the first full kits we have manufactured.
Containing 12 looms (a complete wiring harness for a 1970 XY GT Ford Falcon) the full kit will retail for $4849.60. This is essentially a plug and play kit, painstakingly built to replicate as close as possible, the original Ford harness.
For the next FOUR weeks however, anyone who pre-orders a complete kit (50% deposit required) we're doing a one off price of $4503.20. Projected turn-around for the first kits is 10-12 weeks. This offer will never be repeated, so if you're serious about the finer details of your build, please contact us on (08) 8326 0351.
Individual looms will also be available to be purchased separately, pricing listed below:
– Main Wiring Loom – $3650.00
– Tail Light Loom – $735.00
– Heater Wiring Loom (with Concours Fuse Holder) – $162.00
– Door Light Switch Loom – $102.00
– Glovebox Wiring Loom – $78.00
– Boot Light Mercury Switch & Loom – $75.00
– Rear Interior Light Loom – $72.00
– Clock Wiring Loom – $69.00
– Radio Wiring Loom – $58.50
– Number Plate Loom & Globe Socket – $42.00
– Interior Dome Light Loom – $33.00
– Dual Horn Wiring Loop – $19.50
Please note that SOME of these looms fit other models of similar vintage, and some can be used with minor modifications, so please do not hesitate to call us to find out if we can cater for your requirements.
We will be adding further models to the line-up in the future, however these will be made available on a per-vehicle basis, when a good quality, genuine loom can be accessed for reference.